GROUP 4 HOLDINGS AND THEIR BOARD OF DIRECTORS HAVE BEEN CONSTANTLY RECOGNISED FOR ITS OUTSTANDING LEADERSHIP, DIVESTED PORTFOLIO AND INNOVATIVE SOLUTIONS TO GLOBAL ISSUES
ENERGY SOLUTIONS DEVELOPER OF THE YEAR
G4H Power and Group 4 Holdings were awarded Energy Solutions Developer of the Year in 2021. The award was received by Director of Innovation and Strategy in London, England. The Group was recognised for their efforts in find creative solutions involving Power and Water for African Countries which had a lack of Grid Infrastructure, using unique hybrid solutions to generate Electricity.
BEST DIVERSIFIED HOLDINGS COMPANY 2021
Group 4 Holdings was awarded Best Diversified Holding Company in 2021 by MEA Markets in the UAE Business Awards. The award was given based on the Group's Portfolio Diversification done after the Covid-19 pandemic. This involved restructuring traditional business models and portfolio investments into renewable technologies and investing in Research and Development in the African continent.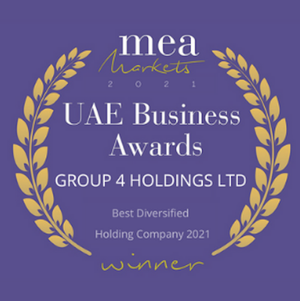 GLOBAL HOLDINGS COMPANY OF THE YEAR 2021 / 2022
Group 4 Holdings was awarded Global Holdings Company of the Year by Corporate Vision in 2022 in the Global Business Awards. This award was given as a recognition of the efforts by the Group 4 Holdings Board of Directors in encompassing Sustainability as a key performance indicator for all Group Businesses.
SUBSCRIBE TO OUR NEWSLETTER.